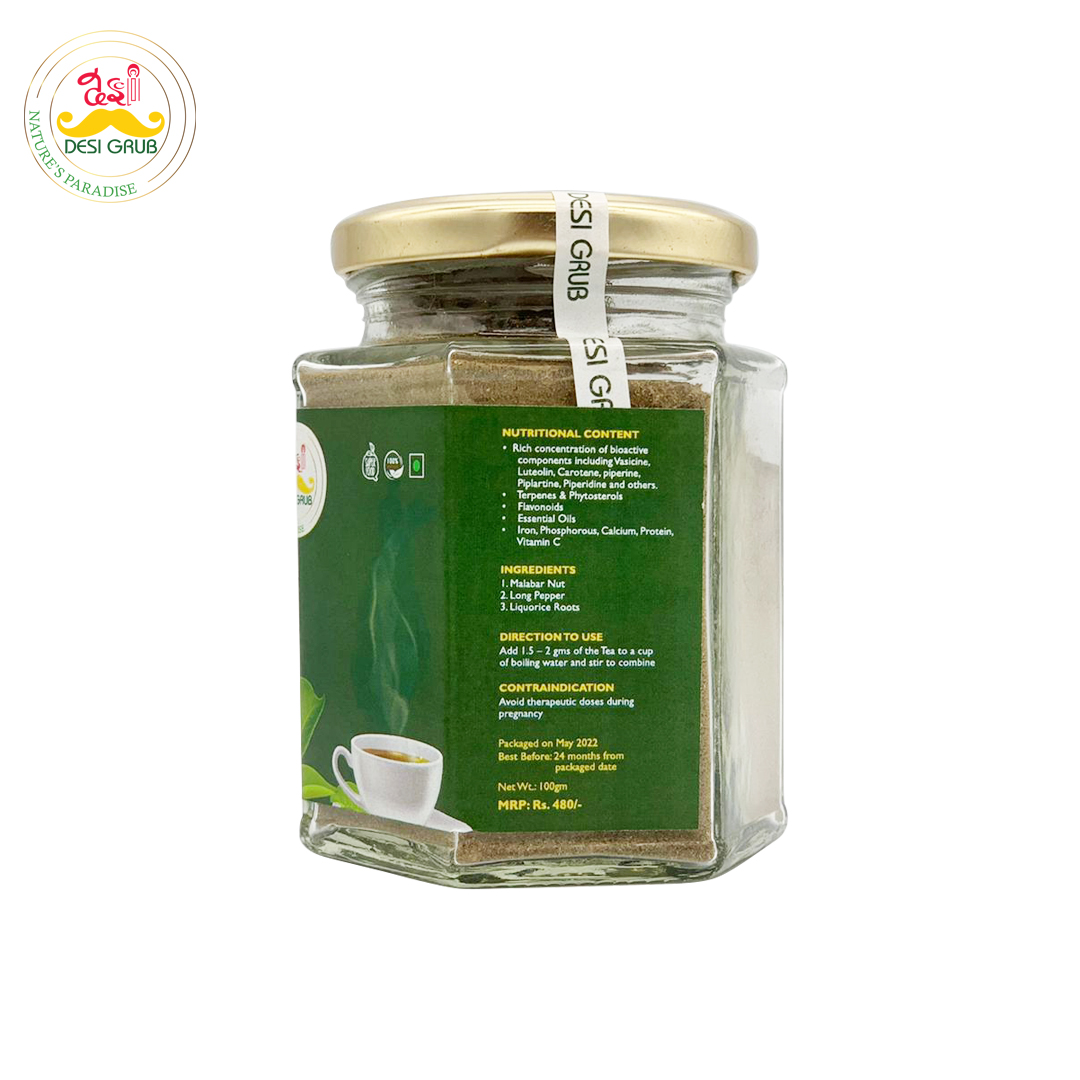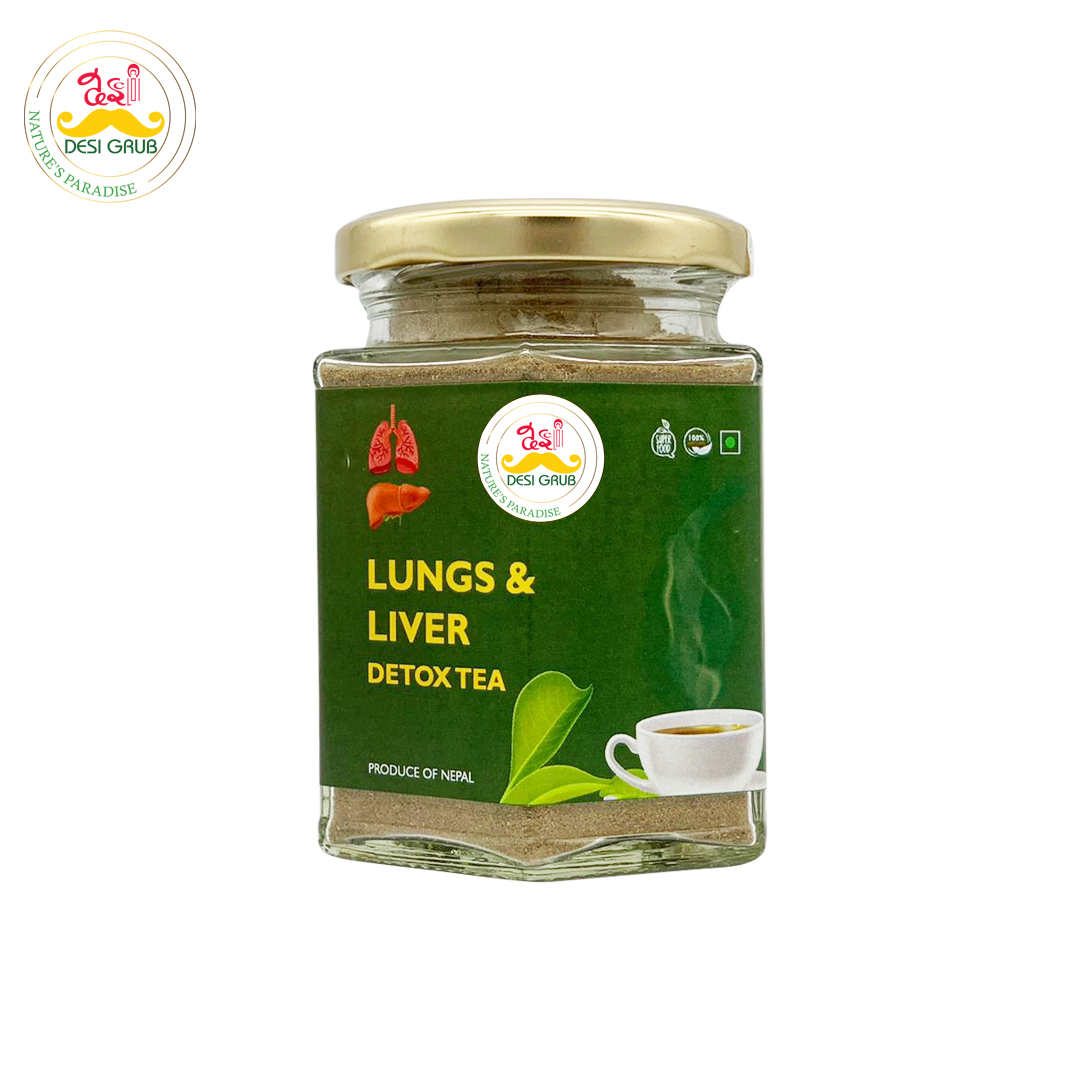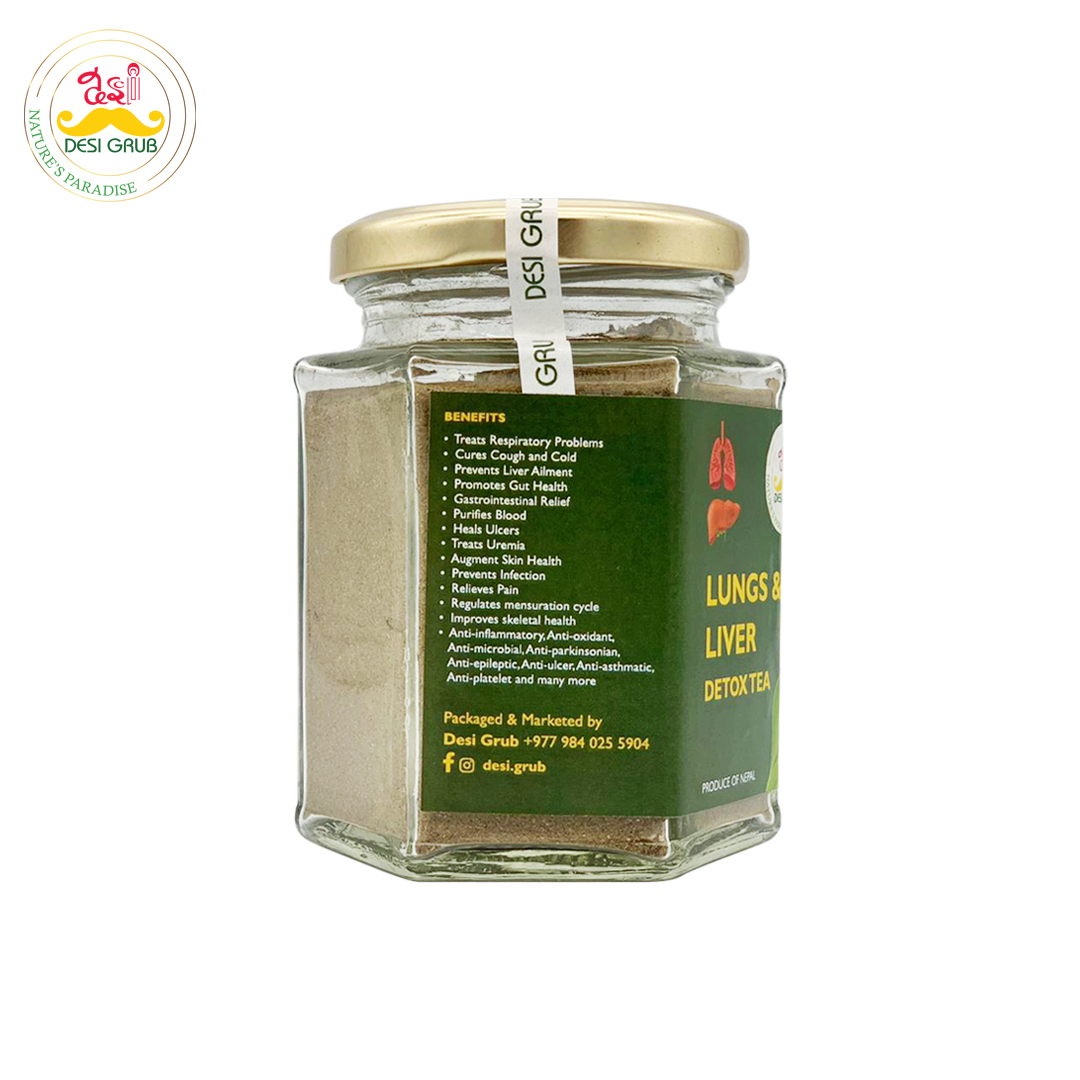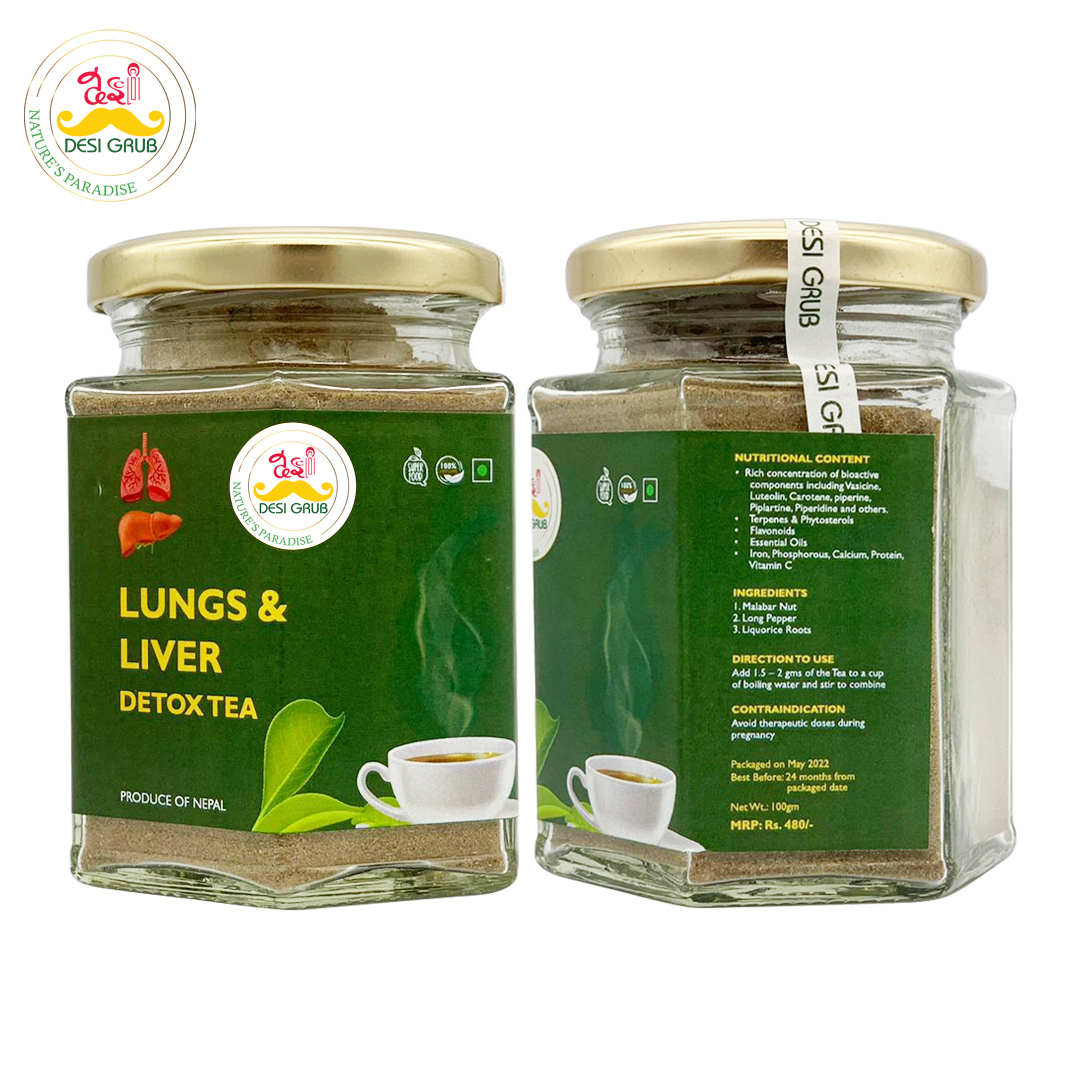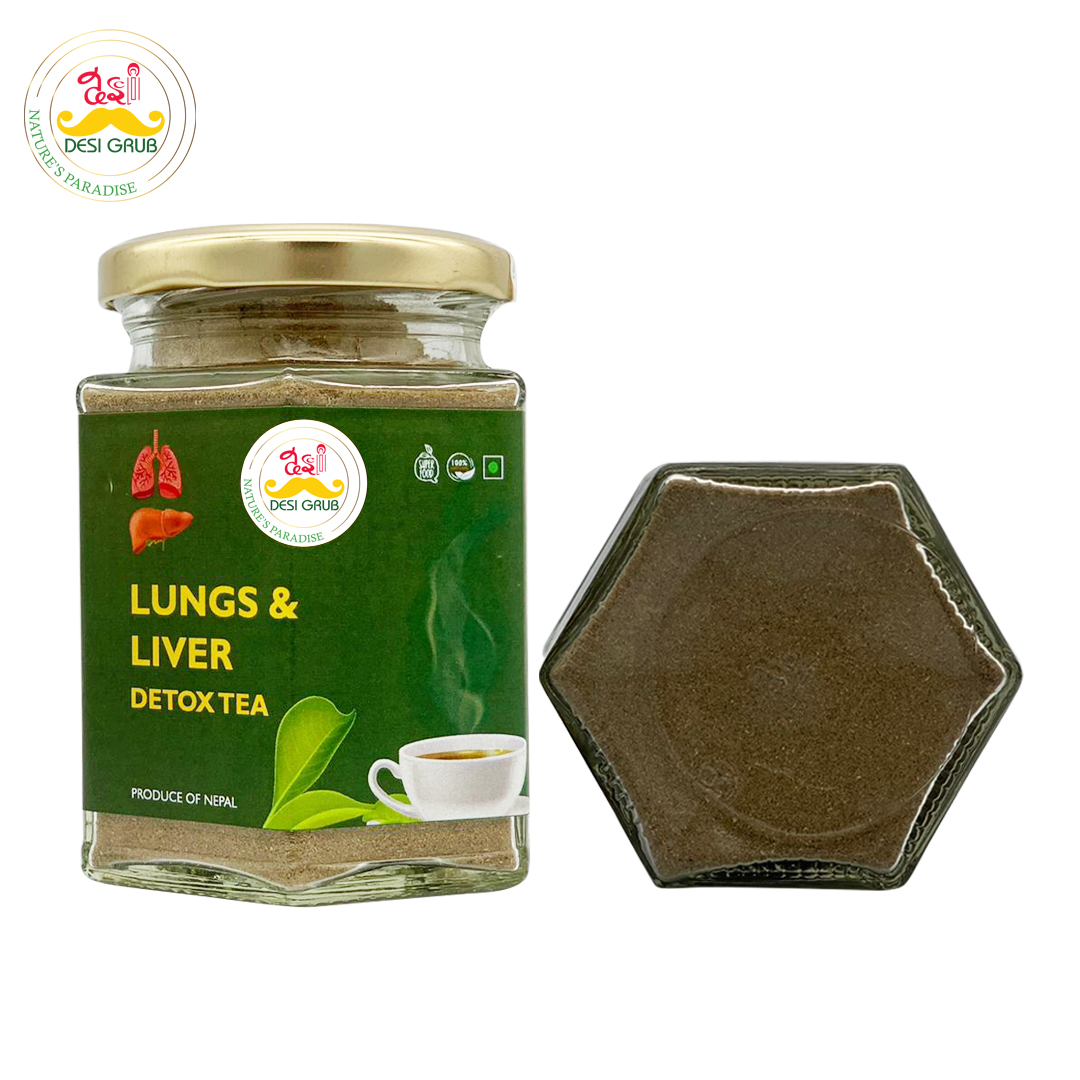 Desi Grub
Desi Grub Lung and Liver Detox Tea | Herbal Tea 100 Gms
Packed with three incredibly effective herbs, Malabar Nut (Asuro), Long Pepper (Pippali) and Liquorice (Yashtimadhu), Desi Grub Lungs and Liver Detox Tea is the ultimate rejuvenating tea with a subtle sweet-bitter and warm earthy taste.
• Respiratory Health Support:
The antiulcer anti-inflammatory properties renew the lungs from harmful effects of increasing pollution and keep it sterile from infections. The antioxidant polyphenols in the tea flushes all the toxins and pathogens out of lungs, cleaning and providing a clearer pathway for respiration. Theaflavins in this tea can potentially inhibit SARS-CoV-2 enzymes. The liquorice extracts helps to quit cigarette smoking.
• Liver Detoxification:
Facilitates liver enzymes and regulates production of gut hormones. Desi Grub Lung and Liver Detox Tea also helps to maintain salt and water intake, aids in eliminating toxins and wastes, supports kidney function. Flushes out toxins Relieves congestion Rids body from free radicals Dietary Supplement Supports better metabolism Rich in Fibers.
Benefits:
Antioxidant polyphenols naturally rids lungs from tar & modern pollutants.
Antiulcer & Anti-inflammatory.
Maintains a clearer pathway for respiration
Ease airway infection
Controls Bronchial Asthma and Tuberculosis.
Cough and cold remedy.
Blood Purifier.
Facilitates liver enzyme production.
Prevents Liver Cirrhos
is & Alcohol Consumption related Illness.
Maintains gut acidity. Balances sodium-water reabsorption and vascular tone.
Regulates kidney functions.
Supports in tissue regeneration.
Antiepileptic, Antioxidant, Antimicrobial.
Alleviates Fibromyalgia (pain) and fatigue.
Immediately relieves from fatigue and weakness.
Subtle sweet-bitter and warm earthy taste.
Direction to Use:
Take approximately 1/2 teaspoon,
Dilute it by mixing it with warm water or

Consume it with Desi Grub Raw White Honey and milk paste,
Can also be taken directly in powdered form.Nutritional
Content:
Terpenes and Phytosterols,
Flavonoid,
Essential Oil,
Iron, Phosphorous,Calcium, Protein and Vitamin C 
Rich concentrate of bioactive components including Vasicine, Luteolin, Carotene, Piperine, Piplartine, Piperidine. and others.
---